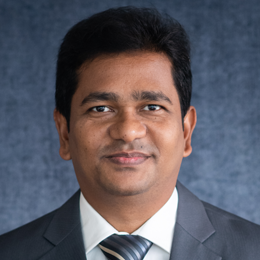 Dr. Tapas Kumar Paul
Lecturer A (Equivalent to Senior Lecturer)

Email: tapaspaul@iub.edu.bd
Department: Economics
Room No: 2007
Ph.D. in Public Policy (Economics Track), University of Missouri, Columbia

Msc in Economics, University of Illinois at Urbana Champaign

Msc in Economics, Jahangairnagar University, Bangladesh
Bsc in Economics, Jahangairnagar University, Bangladesh
Independent University, Bangladesh – Senior Lecturer, Department of Economics (September 7, 2021, to till date)
University of Missouri, Columbia – Graduate Research & Teaching Assistant, Harry S. Truman School (2015–2021)
Independent University, Bangladesh – Senior Lecturer, Department of Economics (2012-2015)
Jahangirnagar University, Bangladesh – Lecturer, Department of Economics (2010-11)
Centre for Policy Dialogue (CPD), Bangladesh – Research Associate (2007-2010)
Paul, T. (forthcoming). The impact of married women's labor market participation on poverty. Journal of Poverty.
Paul, T. (under review). Does Husband's Job Loss Lead Wife's Labor Market Entry? Added Worker Effect during the Great Recession.
Rahman, M., Khan, T., Nabi, A., & Paul, T. (2011). Bangladesh's Export Opportunities in the Indian Market: Addressing Barriers and Strategies for Future. South Asia Economic Journal, 12(1), 117–141.
Kreiter, Z., & Paul, T. (2010). Deficit financing and inflation in Bangladesh: A vector autoregressive analysis. The Jahangirnagar Economic Review, 21, 9-26.
Rahman, M., Bhattacharya, D., Iqbal, M., Khan, T., & Paul, T. (2009). Macroeconomic Management in the Face of Global Challenges. The Bangladesh Accountant, 62(35), 57-95.