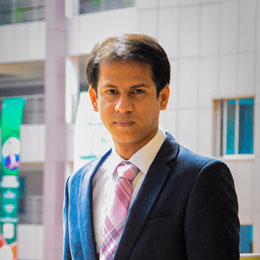 Anwar Zahid
Lecturer A (Senior Lecturer)

Email: anwarzahid@iub.edu.bd
Department: Finance
Room No: 4004
M.Sc in Banking & Finance. (University of Huddersfield, United Kingdom)

 

MBA in Finance (Independent University, Bangladesh)
BBA in Finance (Independent University, Bangladesh)
Anwar Zahid is a Lecturer A (Senior Lecturer), School of Business at Independent University Bangladesh. He received his MSc in Banking & Finance from University of Huddersfield, UK. Moreover, he achieved MBA & BBA in Finance from Independent University, Bangladesh. Prior to joining at IUB he has served as adjunct lecturer in North South University and Independent University Bangladesh. His research interests includes Islamic finance, capital structure and financial institutions.
Zahid, A., Gupta, Gupta, C. D., Hidayah, R.,Shariar, I.(2022), Impacts of Capital Structure on Performance of Islamic and Conventional Banks: Evidence from Bangladesh, International Journal of Research and Innovation in Social Science. Vol. 6, Issue I, pp: 539-544.
Hidayah R., Faizah S. N., Sukirman, S., Suryandari, D and Zahid A. (2021), Corporate Governance, Enterprise Risk Management, and Company Performance. Management Analysis Journal, Vol. 10, No. 3, pp: 321-329.
Zahid A., Noor M. F., Ahmed Z., Ahmed S. P., and Ahmed S. U. (2019), The financial feasibility of expanding nationally and globally: The case of a shipbuilding company in Bangladesh, Independent Business Review, Vol. 12 (1-2), Special Issue.
Hidayah R., Zahid A., Suryarini T., Basher S. R., and Handoyo E. (2019), Corporate Performance and Executive Compensation in Indonesia, The Journal of Social Sciences Research, Vol. 5, Issue. 3, pp: 634-639.
Ullah G.M.W., Zahid A., Khan I., Islam M.N (2018), Working Capital Management and SME Profitability: Empirical Evidence from Bangladesh, Global Journal of Management and Business, Vol. 5, Issue. 2, pp: 094-099.