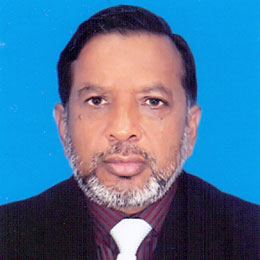 Dr. Abul Bashar
Assistant Professor

Email: bashar@iub.edu.bd
Department: General Management
Room No: 4008 -B
Phone: Ext. 2124
PhD in Management (Lean Manufacturing) Bangladesh University of Professionals
MBA in Digital Technology Management Royal Roads University, BC, Canada

 

M.Sc. (Industrial Eng. University Malaya, Malaysia)

 

B.Sc. Engg. (BUET)
Manufacturing Resource Planning (MRP II)
Dr. Abul Bashar is an Assistant Professor of Management, School of Business at Independent University, Bangladesh. He received PhD in Lean Management from Bangladesh University of Professionals (BUP) in 2018. The Title of his PhD Thesis was "Development of an Analytical Model of Lean Manufacturing system for the Apparel Industry in Bangladesh". Dr Bashar has completed his M. Eng. Sc. in Industrial Engineering from University of Malaya, Malaysia and MBA in Digital Technology Management (DTM) from Royal Roads University, Canada. Dr. Bashar received his B. Sc. in Mechanical Engineering from Bangladesh University of Engineering and Technology (BUET).
Prior to joining IUB, he served different organizations both home and abroad at different positions. He served as a senior lecturer and Head of School, School of Mechanical and Automobile Engineering at college WIT, Malaysia. He also worked with Brown & Root, Gulf E.C and Nass Industrial Services, Bahrain as a scheduling engineer and senior planning engineer respectively. Dr. Bashar started his career with Bangladesh Security Printing Press Corporation, Gazipur as an assistant Manager, production planning and control.
His research interests include Manufacturing Resource Planning (MRP II), Lean Manufacturing, Project Management and Total Quality Management (TQM).
Bashar, A. and Hasin M.A.A. (2018). Lean Manufacturing Awareness and Implementation Status in the Apparel Industry in Bangladesh, International Journal of Lean Enterprise, 2(3), 202-217

 

Bashar, A. and Hasin M.A.A (2017). Nonlinear Correlation of Top Management Commitment with Organizational Performance in the Apparel Industry of Bangladesh, North South Business Review, 7(2), 17-27

 

Bashar, A., Hasin M.A.A. and Haque M. A. (2017). The correlation among TQM and Organizational Performance factors in the Apparel Industry in Bangladesh, Australian Journal of Business Science Design and Literature, 10(1)
Bashar, A and Hasin M.A.A (2016). The Effect of Continuous Improvement on Waste Elimination for Implementing Lean Manufacturing in the Apparel Industry in Bangladesh, Independent Business Review, 9(1-2), 98-109
Uddin B. and Bashar A. (2002). The Implementation of Manufacturing Resource Planning (MRP II): A Management Challenge. Bangladesh Journal of Resources and Development. 1(1), 109-118
Uddin B. and Bashar A. (2006). Post Implementation Analysis of MRP II in a Metal Stamping Industry in Malaysia. The Quarterly Journal of Islamic Economics Research. Bureau. 16 (1), 37-45
Bashar, A and Ghani, A.K. Implementation of MRP II: Development of Implementation Framework. 4TH International Conference on Mechanical Engineering. December 26-28, 2001, Dhaka, Bangladesh. VII 39-44
Bashar, A and Ghani, A.K. Implementation of MRP II: Post Implementation Analysis. 4TH International Conference on Mechanical Engineering. December 26-28, 2001, Dhaka, Bangladesh. VII 33-37
Ahmed, S. Ghani, A.K. and Bashar, A. (2000), Implementation of MRP II system: Framework Development, the 4th SEA Regional Conference on Higher Engineering Education Network (RECHEEN 2000) held in 15-17 November 2000 at Kuala Lumpur. (Non-ISI/Non-SCOPUS Cited Publication)
Two- day workshop on Implementing Lean Sigma in Apparel Manufacturing – Apparel Resources Pvt. Ltd., New Delhi
Day-long workshop on Globalization and Supply Chain management – East-West University, Dhaka
Three day workshop on Business Research Methodology – School of Business, Independent University, Bangladesh (IUB)
Workshop on how to make a Business Plan and Working Capital Management – Chamber of Commerce and Industries, Dhaka
Fundamentals of Pneumatics – Japan Hydro-Pneumatic Center, Singapore
Fundamentals of Hydraulics – Japan Hydro-Pneumatic Center, Singapore
In-house Teachers Training (Colombo Plan) – College WIT, Malaysia
Facilitators Skill Training Course – Bangladesh Society for Total Quality Management (BSTQM)
Teachers Training Program: Daylong Training on Effective Teaching and Learning – School of Business, Independent University, Bangladesh (IUB)