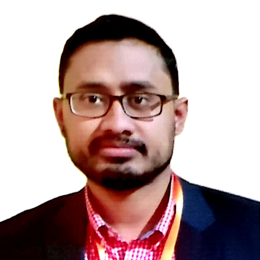 Md. Safiuddin ACMA, ITP
Lecturer A (Senior Lecturer)
Email: safiuddin@iub.edu.bd
Position: Lecturer A
Department: Accounting
Room No: 2007
MBA, BBA (Department of Accounting and Information Systems, University of Dhaka)
Associate Cost and Management Accountant of Institute of Cost and Management Accountants of Bangladesh (ICMAB)
Income Tax Practitioner (ITP)
I have worked as lecturer of School of Business at Uttara University from January, 2014 to January, 2016 before joining Independent University, Bangladesh.
• Financial accounting
• Cost accounting
• Management accounting
• Income taxation
• Auditing
• Accounting theory
• International Accounting Standards
Md. Safiuddin ACMA, ITP is a Lecturer A (Senior Lecturer) of Department of Accounting, School of Business and Entrepreneurship (SBE) at Independent University, Bangladesh. He completed his MBA and BBA from Department of Accounting and Information Systems, University of Dhaka. He is an Associate Cost and Management Accountant of Institute of Cost and Management Accountants of Bangladesh (ICMAB). He is also a certified Income Tax Practitioner (ITP). Prior to joining at IUB, he has served as Lecturer of School of Business at Uttara University and visiting lecturer at Islamic University of Technology (IUT). His research interest is financial reporting, narrative reporting, cost and management accounting etc. He has published in referred national and international journals including the Journal for Global Business Advancement (JGBA), the cost and Management Journal.
Mamun S.A, Aktar Alima, Safiuddin M (2020), Determinants of Intellectual Capital Disclosure of Financial Institutions in an Emerging Economy, Journal for Global Business Advancement (JGBA), Volume 13 (6), Page 732 – 754 Scopus indexed, Scimago Q3
Mahtab N, Safiuddin M, Razzaque R, Siddique N.A (2019), FARR Ceramics Production Division: A Budgetary Analysis. Independent Business Review, Special issue 25-30
Mahtab N, Safiuddin M, Mandal S, Alam M.S, Razzaque R(2018), Simple Costing Analysis at Farr Ceramics Limited. Independent Business Review 11(1-2 Special issue), 1-16 Retrieved from: http://www.sbe.iub.edu.bd/wp-content/uploads/2019/01/Dept.-of-Accounting.pdf
Safiuddin, M. (2018). Creative Accounting Practices by Bangladeshi Companies: A Study on Recent Share Market Crisis in Bangladesh. Australian Academy of Accounting and Finance Review, 1(1), 15-21.
Retrieved from http://www.aaafr.com.au/index.php/AAAFR/article/view/63
Safiuddin M and Mohsin, M (2016), "Determinants of Audit Fees: An Empirical Study on Selected Listed Companies of Bangladesh" Independent Business Review, ISSN 1996-3572 Volume 9, No- 1&2, July-December 2016, PP 116-131
Uddin M. A and Safiuddin M. (2015), "Narrative Reporting Disclosures: A Study of Selected Companies Listed in Dhaka Stock Exchange (DSE)", THE COST AND MANAGEMENT JOURNAL, Institute of Cost and Management Accountants of Bangladesh, ISSN 1817-5090, vol-43, No-5, September-October 2015, PP 41-50
Hossain M. H, Hasan M. S. and Safiuddin M. (2015), "Adoption of International Financial Reporting Standards in Bangladesh: Benefits and Challenges" IOSR Journal of Business and Management (IOSR-JBM), e-ISSN: 2278-487X, p-ISSN: 2319-7668. Volume 17, Issue 8.Ver. I (Aug. 2015), PP 16-24
Safiuddin M, Islam M. M and Anisuzzaman M, "Impact of Financial Structure on Firm's Performance: A Study on Financial and Nonfinancial Sector in Bangladesh", European Journal of Business and Management, ISSN 2222-1905, Vol- 7, Issue-3, 30-38
Islam M.M., Safiuddin M, Islam M. R and Islam N (2016), "An Analysis of Job Satisfaction of RMG Workers in Bangladesh" jointly organized by Australian Academy of Business Leadership (AABL), University of Kuala Lumpur and Uttara University at Dhaka International Business and Social Science Research Conference (DIBSRC), January 2016, Dhaka, Bangladesh