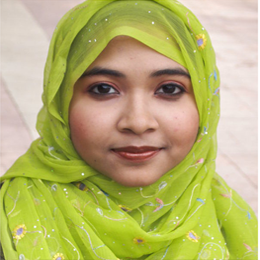 Mumtahina Islam
Lecturer A (Senior Lecturer)

Email: mumtahina@iub.edu.bd
Department: Economics
Room No: 4004
Master of Social Science (MSS), Department of Economics, University of Dhaka

 

Bachelor of Social Science (BSS), Department of Economics, University of Dhaka
Ms. Mumtahina Islam is a Lecturer A (Senior Lecturer) of Economics, School of Business at Independent University, Bangladesh. She received her M.S.S and B.S.S both in Economics from Department of Economics, University of Dhaka. Prior joining to Independent University, Bangladesh she served ASA University as an adjunct faculty. Her research interests include labor economics, development economics, macroeconomics and environmental economics.
Lecturer, Department of Economics, Independent University Bangladesh ( March 25, 2015- Current)

 

Adjunct Faculty (Economics), Department of Business Administration, ASA University Bangladesh (May, 2014- September, 2014)
March 14- April 25, 2015: participated and completed 25th Advanced Training Course on Research Techniques in Social Sciences. Report writing on "An Empirical Study of the relationship between Co2 emission and GDP'. Report presentation. Organized by Bureau of Economic Research, University of Dhaka. .

 

2012: completed the Youth Leading Environmental Change Workshop organized by Wilfrid Laurier University, Canada; Major responsibilities: Attending the sessions on different environmental issues, providing feedbacks and completing different surveys by submitting assignments and by answering survey questions.

 

• 2010: participated Economics Quiz Competition organized by Economics Study Center, University of Dhaka..

 

June 2009: Attended on the Budget analysis seminar. Organized by Jagoree. Major Responsibilities: Presentation on Energy and Power Supply in the seminar.