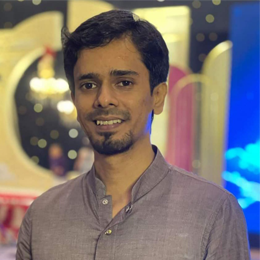 Shamil M. Al-Islam
Lecturer A (Equivalent to Senior Lecturer)

Email: shamil@iub.edu.bd
Department: Economics
Room No: 4005
M.Sc. (University of Warwick, UK)

 

BA (Coventry University , UK)
Capital Market Efficiency, Econometrics.
Shamil M Al-Islam is a Lecturer A (Equivalent to Senior Lecturer) of Econoimics, School of Business at Independent University Bangladesh. He completed MSc in Economics from University of Warwick and BA in Economics from Coventry University in the United Kingdom.Prior to joining Independent University Bangladesh he worked at Development Policy Group as Junior Consultant. His research interest include Capital Market Efficiency, Econometrics
Al-Islam, Shamil Mardi., Ahmed,Zaima., Sadman, Sartaj., "Internal Economic and Political Shocks and Inward Remittances in Bangladesh" (2021), Southeast Asian Journal of Economics, vol 9(2), pp 73-99
Al-Islam S.M., Ahmed, Z "An Association between Stock Index and Macro Economic Variables in Bangladesh" (2019), Journal of Management and Economic Studies, vol.1, issue.8, pp.28-42
Md. Zahidul Islam, Zaima Ahmed, Md. Khaled Saifullah, Syed Nayeemul Huda, Shamil M. Al-Islam (2017), "CO2 Emission, Energy Consumption and Economic Development: A Case of Bangladesh", The Journal of Asian Finance, Economics and Business Vol.4 No.4 pp.61-66
Shamil M Al-Islam, Abdul Hasib Gaznabi (2014)"Foreign Exchange Exposure: A Case Study of Non-financial firms in UK", Independent Business Review, 7 (1), 57-71.
Shamil M. Al-Islam & A.F.M. Mainul Ahsan (2013). "Does budget deficit affect stock prices in Bangladesh? Independent Business Review, 6 (1), 60-68.